Current Promotions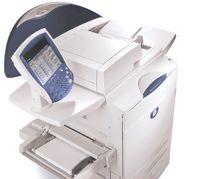 COLOR COPY SPECIAL!!!
Get the great digital color and speed of our Xerox Docucolor 250. $.39 per copy off the glass! With an additional rip charge, same price per copy for digital prints from your file.
OCR SCANNING - Yes! We can take your paper doucuments and convert them into fully editable MS Word documents for you! Our special pricing for a limited time is $5 setup + $.50 per page.
The price is based on clean, ready to machine-feed sheets, and includes saving the file to a diskette. (Keep in mind that OCR is not perfect, and you will have to proofread and correct the file to get 100% accuracy. Come by our shop to see a sample of what our system can do.)
NEW CUSTOMER DISCOUNT - Just for finding us on the web, a 15% discount on your first order for anything other than the above specials.