Digital Laser Black&White Printers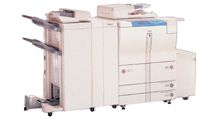 For high volume and two-sided work, we use our Canon ir7200 high-speed digital printer/copier. It can print on a variety of paper sizes up to 11x17, and paper weights up to 110# index.
We also have one Xante Accel-a-writer 8200 for 1200x1200 dpi prints with halftone screening up to 11x17.